Welcome to Ousama Game Wiki
A wiki dedicated to everything about the series written by Nobuaki Kanazawa and illustrated by Renda Hitori.
We currently have 2,624 edits and 87 articles. Please help this wiki by expanding or editing it. Thank you.
An entire high school class of 32 people receive a message on their cellphones from a person known only as the "King." The messages contain orders that the students must obey, or they risk the punishment of death. With their lives on the line, the students soon find out that the orders are getting more and more extreme as time goes on. But one student, Nobuaki Kanazawa, is determined to put a stop to the murderous King's Game, once and for all.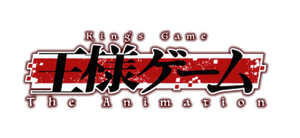 Ōsama Game (王様ゲーム Ōsama Gemu, trans. "King Game") is a cell phone novel written by Nobuaki Kanazawa (pen name: Pakkuncho), consisting of five volumes. A film based on the novel was released in 2011, and directed by Norio Tsuruta. The theme song of the film is "Amazuppai Haru ni Sakura Saku" by Berryz Kobo and Cute. An anime based on the novel was also released in 2017 and was directed by Noriyoshi Sasaki.
For anyone who wishes to get involve, Feel free to help expand this wikia. However, please remember this rules.
Help fix the grammar if you do not think it make sense.
Add appropriate categories to any page you might be making.
For people who wants to upload images, please save them in .png or .jpg format.
For any sign-in wikia contributors who wants to upload images, please remember to specify licensing.
Obtain permission before using other people's content.
Do not crop character screenshots.
Allow your writing to be presentable for the public.
Do not make pointless articles. If you see one, put the Request for Deletion tag on.
For fanart pictures, it is only allowed on your User page, not on articles.
---
To write a new article, just enter the title in the box below.
<createbox> width=30 break=no buttonlabel=Create new article </createbox>
Episode 12: Demise (End/Grudge)

---

The gang overpowers Natsuko and reach the summit, just as they get their next order to cut their body parts to make a human doll. Ryou offers to sacrifice first so Natsuko helps him cut his leg using a chainsaw.
Want to affiliate with us?
If you would like to become an affiliated site, please contact an administrator.