Determination (Blood/Judgement)
japanese title

血断

translation
Ketsudan

Production information

Storyboard
Noriyoshi Sasaki; Kenji Konuta
Production
Noriyoshi Sasaki; Kenji Konuta
Opening
Feed the Fire
Ending
Lost Paradise
Broadcast information
Japanese broadcast
Nov 23, 2017
Episode chronology
← Previous Episode
Eternity (Forever/Dread)
Next Episode →
Solidarity (Wedge/Binds)
Determination (Blood/Judgement) (血断, Ketsudan) is the eighth episode of the Ousama Game series that is originally written and illustrated by Nobuaki Kanazawa as a light novel. The episode premiered on Nov 23, 2017.
Overview
Teruaki tries to call someone for help but Natsuko catches him and takes his phone too. Nobuaki finds hints from a notebook indicating that the characters appearing in the King's victims' phones is a bug and that mutation is a likely way to end the game. He rushes back to his hometown to share information after suddenly getting a call from classmate Riona Matsumoto who was also doing research about the King's game. Riona reveals she knows about Natsuko's late classmate Ria, who was also collecting the characters from the victims and they were remarkably similar to the ones Riona saw Natsuko was looking at after Yuuichi died. Then Natsuko gathers everybody at Bunko Park for the next order, where the class takes turns by seat order to break their fingers; the right fingers are worth +1 point each and left fingers -1 each, with the option to pass, and at the end of the game, anyone with a negative point total is punished. Natsuko intends to make things violent and kill Nobuaki with her strategy, but everyone seems to rebel by passing, including Nobuaki who was advised to pass. Then it is Teruaki's turn. After stalling the game by giving Nobuaki a haircut, Teruaki breaks his left hand.
Characters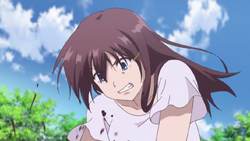 Debut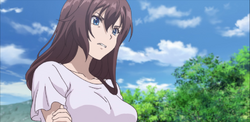 Episode notes
Character revelations
It is revealed that Natsuko is the twin sister of Chiemi Honda.
It is known that there are only 21 survivors left.
Trivia