Revolt (Counter/Oppress)
japanese title

反虐

translation
Hangyaku

Production information

Storyboard
Noriyoshi Sasaki; Kenji Konuta
Production
Noriyoshi Sasaki; Kenji Konuta
Opening
Feed the Fire
Ending
Lost Paradise
Broadcast information
Japanese broadcast
Nov 9, 2017
Episode chronology
← Previous Episode
Wail (Karma/Tears)
Next Episode →
Eternity (Forever/Dread)
Revolt (Counter/Oppress) (反虐, Hangyaku) is the sixth episode of the Ousama Game series that is originally written and illustrated by Nobuaki Kanazawa as a light novel. The episode premiered on Nov 9, 2017.
Overview
A new order was given in which one student has to roll a die, and name the number of students equal to the number rolled, and that student amongst the named students will all be punished. After a heated discussion culminating in Toshiyuki Abe threatening to kill Chiemi, Naoya finally steps up to roll the die. He rolled a 6 and all the remaining classmates ended up dying, except Nobuaki, Chiemi, and Ria. Ria uses the data collected between her and Yousuke and explains to Nobuaki the cause of the deaths was because of hypnosis from a computer virus that is directly linked to the King's Game. She then attempts to delete the virus, but is immediately punished for attempting to stop the game. With nearly all of the students gone, Nobuaki and Chiemi are the only ones left. Meanwhile, in the present time, Mizuki gets a new phone and Nobuaki, Kenta, and her finally arrive at the gates of the village.
Characters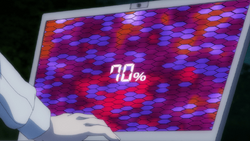 Debut
Episode notes
Character revelations
It is revealed that Ria was abused by her father.
It is known that the King is actually a virus that was spread in the internet.
Trivia